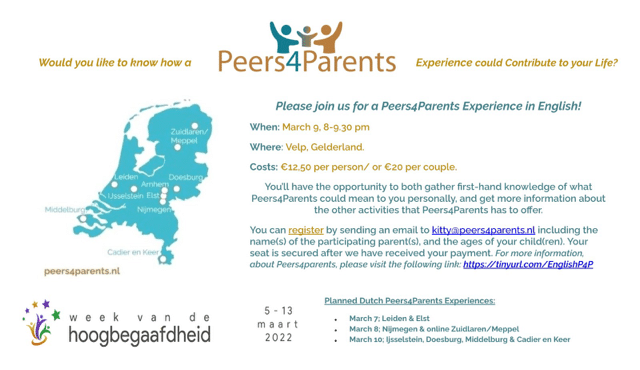 ---
Evenement beschrijving
In 2016 a group of Dutch professionals working with gifted families took part in a SENG (Social and Emotional Needs of the Gifted) Model Parent Groups Facilitator training in the United States lead by James T. Webb, and decided to start their own parent groups and facilitator training here in the Netherlands to further support parents of gifted children.
We sincerely invite you to join us at an adult only Peers4Parents Experience in English:
On March 9th, from 8 pm till 9.30 pm, in Velp, Gelderland.
Costs: €12,50 per person/ or €20 per couple.
You'll have the opportunity to both gather first-hand knowledge of what Peers4Parents could mean to you personally, and get more information about the other activities that Peers4Parents has to offer.
The facilitators of the Peers4Parents Experience will be Kitty van Keulen, Monique Schaminee en Krista Heins.
You can register by sending an email to [email protected], including the name(s) of the participating parent(s), and the ages of your child(ren).
Details
Organisator: Peers4Parents
van: woensdag 9 maart 20:00 tot: woensdag 9 maart 21:30
Prijs: € € 12,50 pp or € 20,00 per couple
Aanmelden via e-mail:
Adres
Kikidio Velp,
Prins Hendriklaan 24, Velp, Nederland.
---